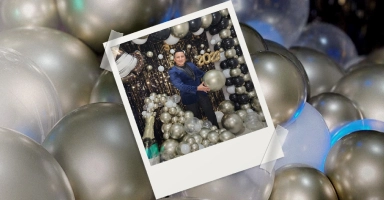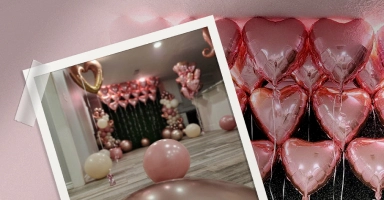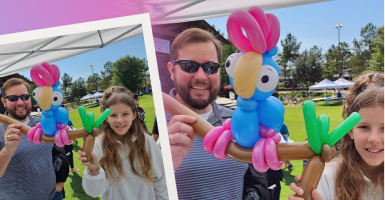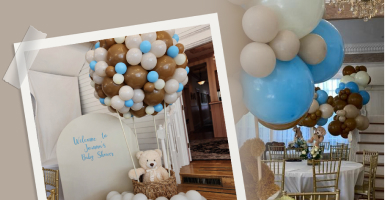 Balloon decorations, balloon twisting and face painting in Texas
Balloon decorations for parties and events. The best of balloon twisting in Texas is right here.
Balloon BouquetsWe have an arrangement for each time of the year.
We have party furniture, special packages for your celebrations, balloon bouquets and +100 themed decorations.
They love working with Wallys! Our work is guaranteed by the smile of our clients.
Amber Southard
4. December, 2022.
Just left an event where Wally was doing his balloon art and he is amazing! He made my little girl a mermaid balloon wand that lit up!!! Wish I would have known about him for her birthday party a couple months ago. Will definitely be booking him for our next event!
Sarah Horton
9. November, 2022.
This is the second birthday party I have hired Wally for and I can't tell you how much the kids love him. Timely, talented, reasonably priced, and so good with the kids! They lined up just to watch him twist other balloons. Very creative and a joy to have at a party.
G Martin
25. October, 2022.
Wally's Balloons N' More is the very best company for balloon decorations. They have decorated two parties for us and I highly recommend them. They communicate with you to make sure the decorations are exactly as you'd like them to be. And their decorations are beautifully done. Just wonderful to work with. You'll be very happy with their decorations!
Charming Darling
13. October, 2022.
I found this place in Houston randomly in Google when I needed a Houstonian based Balloon service. Wally's popped up and had a variety of options to choose from. When I contacted their service, they messaged me in a text by phone to collaborate more closely with what I wanted, which was a balloon theme that celebrated my friend quitting her Toxic Job. They asked to see my venue and suggested something that looked like it fit better in the atmosphere and customized the balloons accordingly, which was funeral themed. We landed on the HBD 10ft balloon sample that is on their website, but customized the letters to say BYE. I loved that they could write on the balloons with unique words "Death to Toxicity" and had skulls, tombstones, broken heart, and the word RIP on it. Wallys also knew what I wanted when I wanted floating balloons and offered me pictures of the balloon colors. I had a choice of using Venmo or PayPal, but opted for PayPal with the 3.5% fee. I wasn't sure who they were, but after using them I would go for Venmo! They kept in contact with me rhythmically once or twice before the balloon delivery date and the day off, Wallys texted me to let me know they were on there way and how long it would take to drive to meet me. Which was perfect, so I could prepare to guide them! They arrived in their themed van and carefully took out my balloons. They set up everything and even when part of the balloon streamers got sucked into the venue's fan, I appreciated that Wallys took their time to take the streamers out of the fan so the venue wasn't damaged. They also taught me how to take the balloon apart, since it was on a 10 ft pole and taped in particular spots. My friend wanted to keep it for the rest of the week. Set up took less than 15 minutes, since my order was simple. I got lots of compliments from strangers. (We were at a bar!) All in all, this is a 5/5 Star Review. I have not had such amazing service with a privately owned company and highly recommend them. Their cost matches their warmth and professionalism.
Casie Coon
13. October, 2022.
I reached out to Wally's for my daughters 3rd birthday and they exceeded my expectations. They came up with amazing ideas to make her day extra special. The customer service was incredible and they are very reasonably priced. I will definitely be using them again for any balloon needs!
Jaeci Fisher
11. October, 2022.
We loved working with Ysenia! She always answered our questions and had great communication. We loved our decor and set up for a bridal shower as delivery, setup and pick up was very seamless. Will definitely be using Wally's for my next event!
Indresh Kaur
11. October, 2022.
I have used them 2 times and it was a wonderful. Last time I asked them to set up the balloons just a night before and they did it. Wonderful service. You get what you ask for.
Marie Ekpema
7. October, 2022.
Wally is very efficient, responsive and created a very beautiful piece with little notice. It was definitely the star of our event.
Great Cars
29. August, 2022.
Wally was tasked with making my event extraordinary. I needed a ballon arrangement for a private jet. He and his family not only showed up and showed out, but they exceeded my expectations drastically!! They made the experience wonderful. I love them. I will definitely use them for all my future needs. They are the best!! Customer service is award winning. I am so pleased with them. 100 out of 10 🌟 Don't hesitate to call them. They go above and beyond. The best in the business is an understatement. I will be back soon!!
Stephanie Stenzel Land
29. June, 2022.
Loved the balloon arch! Did a fabulous job!